For the holiday season, find the best deals on child pilgrim girl costumes for sale. These pretty elegant pilgrim girl clothing are great for children who need a nice looking costume for their school play or community theater this holiday. These dresses also make impressive props for book report history presentations for elementary school. These traditional designs create an authentic nostalgic look of the colonial days of Early America.
Child Pilgrim Girl Costume Dresses

Kid's Traditional Pilgrim Girl Costume

This elegant pilgrim costume for girls follows the black and white design of a traditional pilgrim dress. It includes the white bonnet and apron. Great for plays and Thanksgiving festivals! Child dress sizes small to x-large.

---
Grey Pilgrim Girl Costume

This girls colonial era costume includes a grey pilgrim costume dress with white collar, white apron, and bonnet. A wonderful costume for historical plays, Early America events, and Thanksgiving or Halloween costume parties! Available in children sizes: small, medium, and large.

---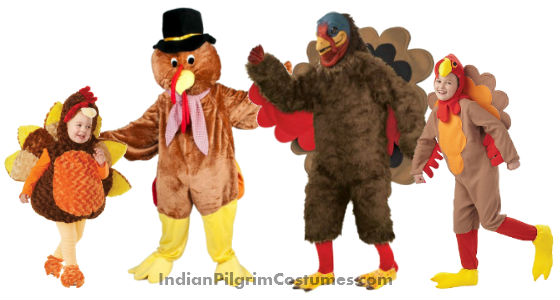 Other Thanksgiving Costume Ideas!
| | | | |
| --- | --- | --- | --- |
| Indian Boy Costumes | Pilgrim Boy | Indian Girl Costumes | Pilgrim Girl |
| Pilgrim Man Costumes | Pilgrim Woman Costumes | Native American Woman Costumes | Native American Men Costumes |
| Native American Indian Feather Headdress | Turkey Mascot Costumes | Colonial Girl Costumes | Colonial Boy Costumes |